Programs
Competitive Athlete Programs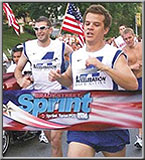 These programs are for our athletes who want to be at the top of their game. This personalized program is available for the serious athlete that wants to take their game to the next level. "Muscle Thrills, but Speed Kills" is the motto of this program. Speed, agility and quickness are the key to any sport. These customized programs will take you to the next level.


Strength Training Programs
Strength training is an important part in developing athletes. Competitive Edge Athletics, Inc. believes in the total development of athletes. These customized programs take an athlete through various phases of a strength training program including hypertrophy, strength and power. The different aspects in these programs include upper body strength, lower body strength, Olympic-style lifting and core strength.
Recreational Athlete Programs
Our Recreational Athlete Programs are designed for "the weekend-warrior." These programs are more age-specific and focus on keeping older adults fit and injury free.
Endurance Athlete Race Plan Strength Programs
This program is designed custom for the road racing season and is created to help the athlete peak for Championship racing.
All training programs are offered on a two, three or four session per week basis and are available in packages of:
4 Weeks
6 Weeks
8 Weeks
12 Weeks
16 Weeks